As I was reading
the article about whitening creams on the Fashionista
, I thought, I should write one of these, too! But I read on and realized that this article can't be topped. Finally, someone has taken on the subject of dark spots, why all the cosmetics companies are releasing lines designed to deal with them, and how they work. Also, it explains why my expensive Chanel Le Blanc serum, cream, and cleanser have been doing zip, zilch, nada to clear up the giant sun spot on my left cheekbone. And why I should just buy another bottle NuFountain Vitamin C serum instead.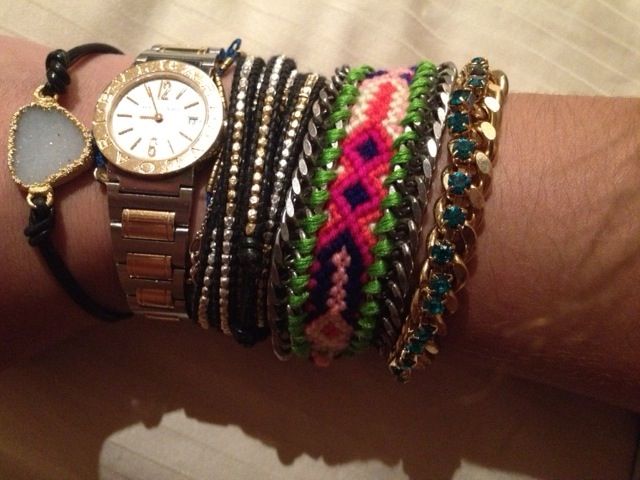 Don't they?
We've all been subjected to numerous photographs of "arm parties"--that stacked bracelet craze that's been around for a couple of years now. And frankly, a lot of the time, the stack looks kind of tatty. I don't know whether people want their bracelets to tell a story, but I see stories that look like "OK, here's my watch even though I really use my phone to tell time, and a beaded friendship bracelet that my daughter made for me, and a bangle that my husband gave me when we were dating, and a set of three costume bangles, and a double wrap leather bracelet." And they're all higgledy-piggly, and look a little sweaty.
So here's
District of Chic
showing us How It's Done.
It doesn't hurt that there are two Hermès bangles in the mix. Or that she's carrying a Chanel flap.
In other news, I am entranced with a lot of the new styles that are coming out for fall. I'm at a stage in life where I occasionally need to wear a dress. And not an empire-waisted, one-shoulder dress six inches above my knee accessorized with platform sandals, the whole outfit designed to make me look like an adolescent giraffe. At least, that would be the end result if I were seventeen years old.
Therefore, I'm absolutely in love with the stuff I've seen coming out for fall. I had to dig around a bit on line to find it, since the stylists for the catalogs are doing their bewildering best to cobble together outfits that look like the sort of thing I'd throw on if my house were on fire, and J. Crew, I'm looking at you.
Here's a thought: don't. Unless you really, really want to look like a fashion blogger.
And don't think I'm not aware of your lapses in that respect, NORDSTROM. Blame your catalog stylists for the fact that I went to the Anniversary Sale on the first day ... and didn't buy anything but makeup.
Anyway, I'm in love with the longer lengths I've been seeing for fall. Ditto the paucity of platform shoes, which have started to look really dated even to me--and I cling to my favorite styles like a terrier with a bone. I'm pleased to see that waistlines appear to have headed south from the supposedly-flattering empire waist that has bedeviled me (and my Balcony) for the past several years. And I love the peplums. Although these are not great for those of us with Hips. However, they are helpful for those of us who have developed Elephant Ass, adding much-needed fullness to our meager side view.
Not to toot my own horn
ad nauseum
, but you can see the stuff I've been admiring on
my Pinterest board
.
I mean, honestly--what's not to love?
Meanwhile, I'm sort of on a spending moratorium until I have time to hit the stores and check this stuff out in person.
In parting, I'd like to wish you all a wonderful weekend, as we wind our way into August and the end of summer. Get outside, eat watermelon, have a drink or two on the porch, find a large body of water and gaze at it. And you'll never guess what I'm doing this weekend, so I'll tell you. I'm dragging Mr. Buxom to a dance studio in Chicago to learn Balboa swing dancing. Check it out:
I mean, seriously. Look at those shoes. How could I not want to do this?