Estee Lauder Nightwear Plus Anti-Oxidant Night Detox Creme
I'm of the opinion that Estee Lauder's entire marketing team worked their way through college waiting on table, because they choose the longest damned names. This name, like so many of Lauder's, sounds like a waiter describing the special, where he'll blather on about "mesquite grilled" and "grass-fed" and "lardons" and "red wine reduction" when what you need to hear is "steak."
I will therefore refer to this stuff as "EL Nightwear ... Creme."
EL Nightwear Creme is the newly-launched cousin to EL's Daywear Creme, which I like a lot. DayWear Creme has an SPF of 25, is very light, but very hydrating, and plays well with makeup. DayWear is oil-free, which is of no consequence to me; breaking out is not my issue, and if my skin feels dry, I'll add a few drops of oil to my face before I put it on.
Like DayWear, NightWear is very light and very hydrating. It feels extremely cool to the touch, probably because of its high water content.
It's nice, but hardly special, and I won't even address that nonsense about detoxing, because I credit my readers with more intelligence.
At 1.7 oz. for $55, my deluxe sample size is worth $16. Supposedly.
Verdict: Meh. I wouldn't bother with this one.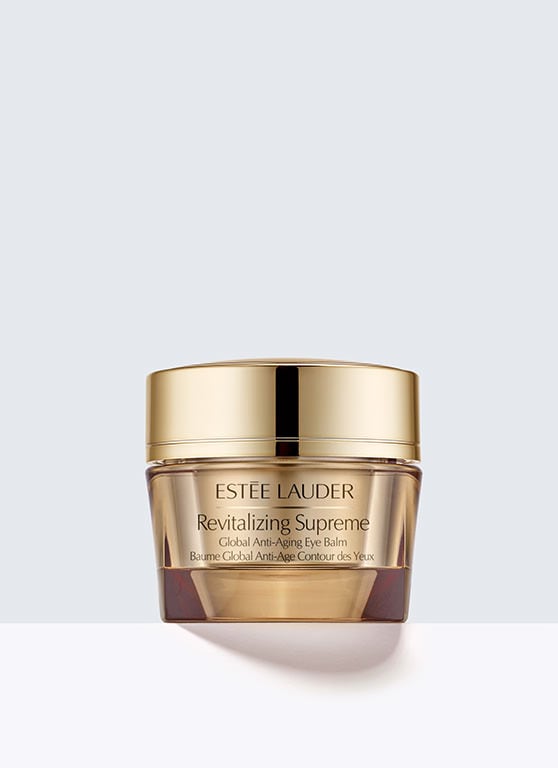 Estee Lauder Revitalizing Supreme Global Anti-Aging Eye Balm
Again with the ridiculous product names, and what, may I ask, is the word "Global" doing here ... does this cream make my undereye area look well-traveled? Sophisticated? Or like it has jet lag? One wonders.
Anyway, I tried two eye cream samples this week, because eye cream is by far the most common type of skincare sample in my stash. Is this because they can hand out a minuscule amount of the stuff, yet still feel that they're doing you a favor? Again,
ONE WONDERS.
I first heard about Estee Lauder's new Revitalizing Supreme line from Dustin Hunter, who did a
video
about some of his favorite moisturizers. He really likes the face cream from this line, and says that he likes to use it as a makeup primer.
I agree with him about the primer-like characteristics of this line. The eye balm is a lightly-moisturizing soothing eye cream that leaves an odd matte finish; I'm guessing it has some kind of silicone as one of the first ingredients. (I don't know for sure, because this information isn't on the sample, and I can't find it on the Lauder website, and frankly, that's dumb and makes me cranky.)
I didn't find it particularly emollient or hydrating, so I thought I would try it as an eyeshadow primer, as I thought it might work for those of us with dry-ish eyelids.
However, I tried it under the Urban Decay Anti-Aging Primer Potion I'm using this week, and they did not play well together ... my under eye concealer caked up and creased in new and exciting ways. I guess I was ODing on silicone or something like that.
For the record, a review on the Nordstrom website claimed the cream had very fine sparkles; I just dabbed some on the top of my hand and didn't notice anything. On the other hand, my eyes are putting my optician's kids through college, so YMMV and all that.
At $60 for .5 oz, my deluxe sample size is worth $20, and I probably just blew $5 dabbing it on my hand.
Verdict: Very meh for the money, and I wouldn't bother with it.