Like many fat people with degrees in literature, I really love to read cookbooks.
In my years of collecting and reading cookbooks, I've noticed that there are two kinds: books that give you detailed, step-by-step instructions on how to prepare a particular dish, and books by writers who are fascinated with food: its history, its cultural nuances, its sensual delights, its meaning.
In short, sometimes a cookie is a cookie; sometimes it's a Madeleine.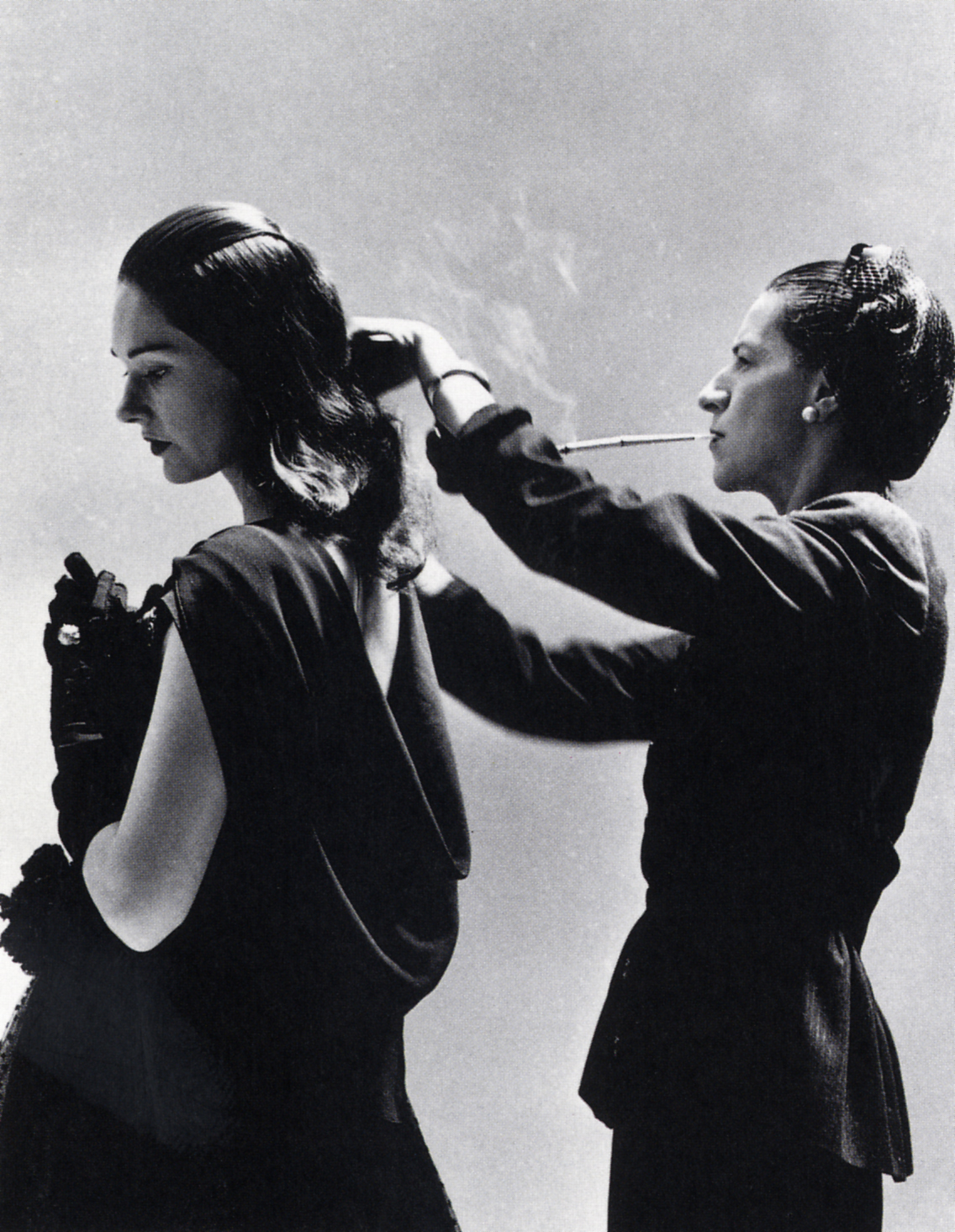 Diana Vreeland working with a model, Harper's Bazaar, probably in the 1930s.
My collection of books about beauty and style can be similarly characterized—it's pretty equally divided between theory and practice. After I started blogging about beauty and style, however, the balance tilted a little. I started acquiring more books that provided specific advice about what women in midlife should be doing to continue to look good.
I've decided that I hate books like that. Especially em-effing Charla Krupp and the way she feeds off women's fear of aging.
Admittedly, in interviews, Ms. Krupp claims to be talking about working women. And I realize that things out there are tough for women in their forties and fifties. But think about it: where are the books teaching men how to continue to look young? They don't exist (which would explain the bad, all-one-color dye jobs I see on some of the older executives of my acquaintance.)
Not to mention that Ms. Krupp's follow-up book is
How Not to Look Fat
. Which is, you have to admit it, a bit of a giveaway. Fat being the yin to Old's yang. Apparently, Krupp will do whatever it takes to get women to freak out about the effects of the passage of time. Just as long as there's money in it for her.
I'm not saying aging is pretty. And I'm not going to start spouting a lot of new-Age woo about all of us being beautiful. But there are certain advantages to the aging process, beginning with not being dead.
Of course applying makeup is less enjoyable than it was when I was 27. On the other hand, I know a hell of a lot more about makeup and what looks good than I did thirty years ago. (Current Poppy to 27-year-old Poppy:
the hot pink duo-chrome pigment was not a good idea
.)
But enough about me. Let's talk about Diana Vreeland. She was never conventionally pretty, but she had a fantastic slim figure that made her an ideal clothes hanger. And she had beautiful hands.
Well, guess what--she got older. A lot older.
But she still ran
Vogue
magazine and coined the term "Youthquake" and basically helped make the British invasion of style happen on these shores. And then kept going. Because she was interested in style
qua
style, and not just what made her look better.
And so, I've decided, am I. So I have accumulated the following books
And plan to dive in.
In the words of Neely O'Hara "Wow! What an orgy!"