So ... I ordered some stuff from J. Crew.
I haven't shopped at J. Crew in a while, although I usually flip through the monthly catalog. The thing is, the way they style their clothes is so relentlessly 20-something that it's a bit off-putting. And the web site is even worse, because the styling is just as odd, and the pictures are even smaller. With J. Crew, I really do best going to actual brick and mortar stores. They tend to have a logical layout, and the stuff on the dummies actually looks like something normal people would wear.
Which explains why some of this stuff is fine, and others ... meh or worse.
First of all, there's J. Crew's on-and-again relationship with Liberty of London. I must have opted out of J. Crew emails, because I never heard about a new launch of Liberty collabs for fall, and then, when I happened upon it, a lot of the stuff was sold out. See this print? I love it.
But there were
no shirts left in my size
. So when I saw
this style
was available in a 14, I jumped at it.
The thing is ... the fit is off.
Mind you, I've never cared for the popover style in the first place. I have a prejudice against styles that look like the result of trying to save money on fabric or labor. I've always thought the popover was J. Crew's way to save manufacturing costs, because labor costs would have to go down when you don't need to sew on as many buttons or bind as many buttonholes.
What I hadn't realized is that the popover is a sneaky way to scrimp on fabric, too. The size 14 popover fits nothing like a J. Crew size 14 Perfect Shirt or Boyfriend shirt. It's a bit shorter, is cut straight up and down with no darts or waist indentation, and uses less fabric through the torso. This makes it just snug enough to look both dowdy, because it's shapeless, and vulgar, because it clings unattractively.
If you are either an hourglass or an apple, this will probably end up being magically unflattering.
Back it goes.
The leopard print merino
shell
and matching
cardigan
were wins, however. The wool is thin, but not as ridiculous thin as the J. Crew "tissue-weight" cashmere, (which again, strikes me as a cost-savings device disguised as a feature. "Who needs those old-fashioned heavy, warm, substantial, luxurious cashmere sweaters! Buy our tissue-weight in new modern colors with cool names like "pool" and "damson" and look really great until your sweater pills and then develops mysterious holes!")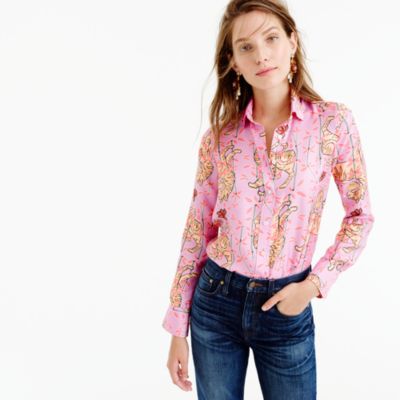 The Drake's for J. Crew pink silk Perfect Shirt
is nice--although the tigers ended up upside down across my chest, and for the money, I think I'm entitled to tigers that are right side up. The pink veers slightly towards a dusty orchid shade, and the orange beasts are a soft coral, so it's not quite as splashy in-your-face as you'd think. The silk is OK quality--not great, but good, and the fit is good, with no unseemly gapping at the bust. The silk screening isn't as detailed as the pants I'm about to talk about, which is really too bad.
OK. These are these pants.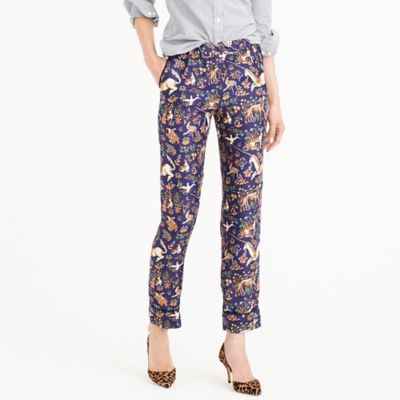 Collection Drake's for J. Crew pants in Midnight Unicorn
They too are silk, and the print is awesome--kind of a combination of a guy's hunting-themed tie and the unicorn tapestry at the Met. They seemed both festive and kind of quirky, but in a good way.
But the fit is bizarre. The 14 was a little loose in the waist, and there was a bit too much fabric in the thighs. Maybe with a slimmer leg, they would've worked. I don't know--the tailoring just seemed off.
Also, these pants have an obviously covered elastic waistband, which, if you're not doing a J. Crew half-tuck, means that you'd have to wear a belt--or risk looking like an outtake from People of Walmart. Which, no. Hidden elastic waistbands? Not for a pair of $200 pants.
And of course, I tried on the pants last. While I was still wearing the leopard print twinset. I can't even begin to describe the tolerant, amused, yet trying-incredibly-hard-not-to-laugh looks my husband and son had on their faces when I came downstairs to ask them what they thought.