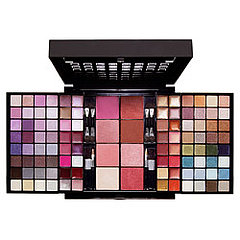 You know those fabulous blockbuster palettes that everyone comes out with for the holidays? Estee Lauder, Sephora, Walgreen's, you name it. A whole rainbow of colors and so many finishes: matte, satin, frosted, opalescent, glittery. How fun are they?
Great fun. But let's remember eyeshadow's primary purpose. It's not to go all Crayola 64 shades. Eye shadow exists to sculpt, enlarge, and accentuate the eye.
Say hello to the idea of Your Eyes But Better
If you want startling effects, you'll need a range of different colors of eyeshadow. But if you want to do a neutral, pretty makeup job--your eyes but bigger, brighter, more defined and more expressive--you only need three shades of shadow:
1. A light, non-shimmery base color
This shade should be about the color of your brow bone. You'll be applying it all over the eyelid, from lashline to eyebrow. This sets your concealer or primer, mattifies the area, and provides a base for the rest of your eye look.
2. A darker, non-shimmery midtone/contour or transition shade for sculpting
The transition shade should be only a few shades darker than your light shade. This is where fair-skinned girls get gypped. In the average quad, this shade is usually far too dark. You really only want it to be a couple of shades darker than your light shade. Think about the way paint companies show shades on paint strips--the difference in color should be visible, but subtle.
3. A very dark shade for lining and special effects
The dark shade should be somewhere between your contour shade and your eyeliner and/or eyelashes.
To those shades, it's also nice to add
4. A light shimmery highlight color
OK, I realize this comes as news to absolutely no one. I swear, as I type this, I'm picturing my makeup-obsessed internet friends rolling their (perfectly made up) eyes and saying "duh." After all, every eyeshadow manufacturer from Maybelline to Chanel produces a quad with four beige-to-chocolate brown shades.
Except that the companies often act as thought these quads were one size fits all, when they're really not.
Beware of Shimmer
You'll find lots of quads with absolutely gorgeous colors--except the shadows are all shimmery. Shimmery shadows are fine for certain uses, but for this natural, neutral eye, you want to shape and sculpt the lid, browbone, and crease, and you can't do that with sparkly shadows.
Also, once you have even a hint of droopiness, crepey-ness or crows' feet, you have to approach shimmery shadows with extreme caution. (This is because--to revert to my paint metaphor--you don't use high-gloss, light-reflective paint formulas on a cracked surface!)
Work with your complexion
Here's another way in which eyeshadow quads aren't one-size-fits-all: the four shades you select should relate to your complexion shade and tone. I'm not talking about eye color here; this advice holds no matter what color your eyes are.
You're using these shades to contour the area around your eyes, and they need to work with the color of your skin. As a fair-skinned, cool-to-neutral person, I've found many eye quads to be way too dark or too yellow toned. Often the lightest shade is fine, but the midtone or contour shade is the color of Grey Poupon mustard. Nothing against you mustard-colored ladies, but not only is Grey Poupon-colored eyeshadow unattractive, it looks unnatural. On me, at least.
If you're medium-to-dark-toned, you'll have to watch out for the lighter shades. Often the'll be too light, and end up looking ashy and unnatural. And if you're warm-toned, too taupe-y and cool a shade will look muddy.
Ideally all four eyeshadow shades blend together to create a soft, natural, big-eyed look--which is why I call it Your Eyes But Better.
My Recommendations
When you're looking for a set of eye shadows, it's tempting to buy a ready-made quad. But as I've already pointed out, I've never had much luck with that; it's awfully hard to escape shimmer, and the contour shade is too dark and warm a brown.
However, quads can definitely be cost-effective, as opposed to buying four single shades. Bobbi Brown makes amazing
shadows
, but they're $20 each, so I hesitate to order you to run out and buy four of them. Still, if you click over there to check out the colors, you'll see how soft and subtle they are. That's the look we're aiming for.
There's also the advantage that someone else has coordinated the colors for you, which is helpful if you're a beginner.
Here are my suggestions:
Drugstore Quads
Revlon's Colorstay 12 Hour Eye Shadow Quad in
Coffee Bean
Physician's Formula
Canyon Classics
and
Classic Nudes
Department Store
Clinique's Color Surge Eye Shadow Quad
in Teddy Bear. Spicy and Choco-Latte are also beautiful, and would work well with people with warmer and darker complexions.
Elizabeth Arden Color Intrigue Eye Shadow Quad in
Sueded Browns
or
Neutral Cashmeres
.
Creating the perfect eyeshadow quad
As you can see, sometimes a quad has one or two or even three gorgeous colors, but it doesn't have everything you need. Once you know the shades that work best for you, it's a great convenience to fill a compact with them.
M.A.C. sells empty four- and fifteen-pan compacts. If you get a four-pan, you could fill it with shadow that work perfectly for you. This is something to keep in mind if you've tried one or two ready-made quads and found you only used two or three of the shades. A custom compact is really wonderful for travel, and it really simplifies life to open one compact and find everything you need.
My favorite eye shadow palette? Glad you asked
OK, this is definitely a case of do as I say, not as I do, because my favorite eyeshadow "quad" has nine shades of shadow. It's Too Faced's
Natural Eye Neutral Eye Shadow Collection.
It has a perfect base color (top left) and the all-time fabulously wonderfully perfect crease shade for me (top middle). It also has some great shades to use as eye liner, and some shimmery and glittery shades to use for evening, so it's basically one-stop shopping. It retails for $34, but since you get nine shades, I think it's a pretty good deal.
(Confession time: I've also taken the plunge and ordered a M.A.C.
15-pan palette
. Of neutral colors. Heh.)
Coming up soon: how and where to apply your eyeshadow.
Elsewhere:

MakeupGeek has two helpful videos that relate to this post, Makeup 101: How to Apply Eye Makeup, and How to Organize Your MAC Neutral Palette