The Thin Man
(1934)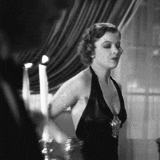 In this movie, the body of Poppy Buxom is discovered. Who killed her? Myrna Loy's backless halter dress.
Some stills because they're just so gorgeous.
The Women
1939
Now, Voyager (1942)
What an entrance!
Did we realize Bette Davis had such an impressive rack?
I wish this was slower ... this is after the big makeover.
Rear Window,
1955
... and then she married a prince, and Hermes named a pocketbook after her. The end.
Funny Face
1957
Instead of gifs, I have many, many clips for you
What a Way to Go
(1964)
I know this format is janking up the screen, but this is wide-screen, baby!
Thoroughly Modern Millie
1968
Again: did we know about Julie Andrews' legs?
I'll admit the cheesey voice over is annoying, but check out the dresses!
Desperately Seeking Susan,
1985
Did you have the Ray-Bans? EVERYONE HAD THE RAY-BANS.
Confession: I watch Elementary to get my Aiden Quinn fix. 1980s Poppy had a little crush.
Metropolitan
, 1990
Not shown: unironic daytime prep wear ... the camel hair coats and cashmere sweaters are TDF.
Clueless
1995
Worth a watch for the closet scene ... and Dionne's hat.