This is a series in which, in an attempt to work my way through my sample overload, I spend the weekend trying out samples, then inflict capsule reviews upon the internet.
Hello, internet! How are you? I had a lovely Thanksgiving, and I hope you did, too, and took advantage of whatever bargains tempted you, whether you shopped online, in chain stores or in
ye olde quainte
locale
boutique
.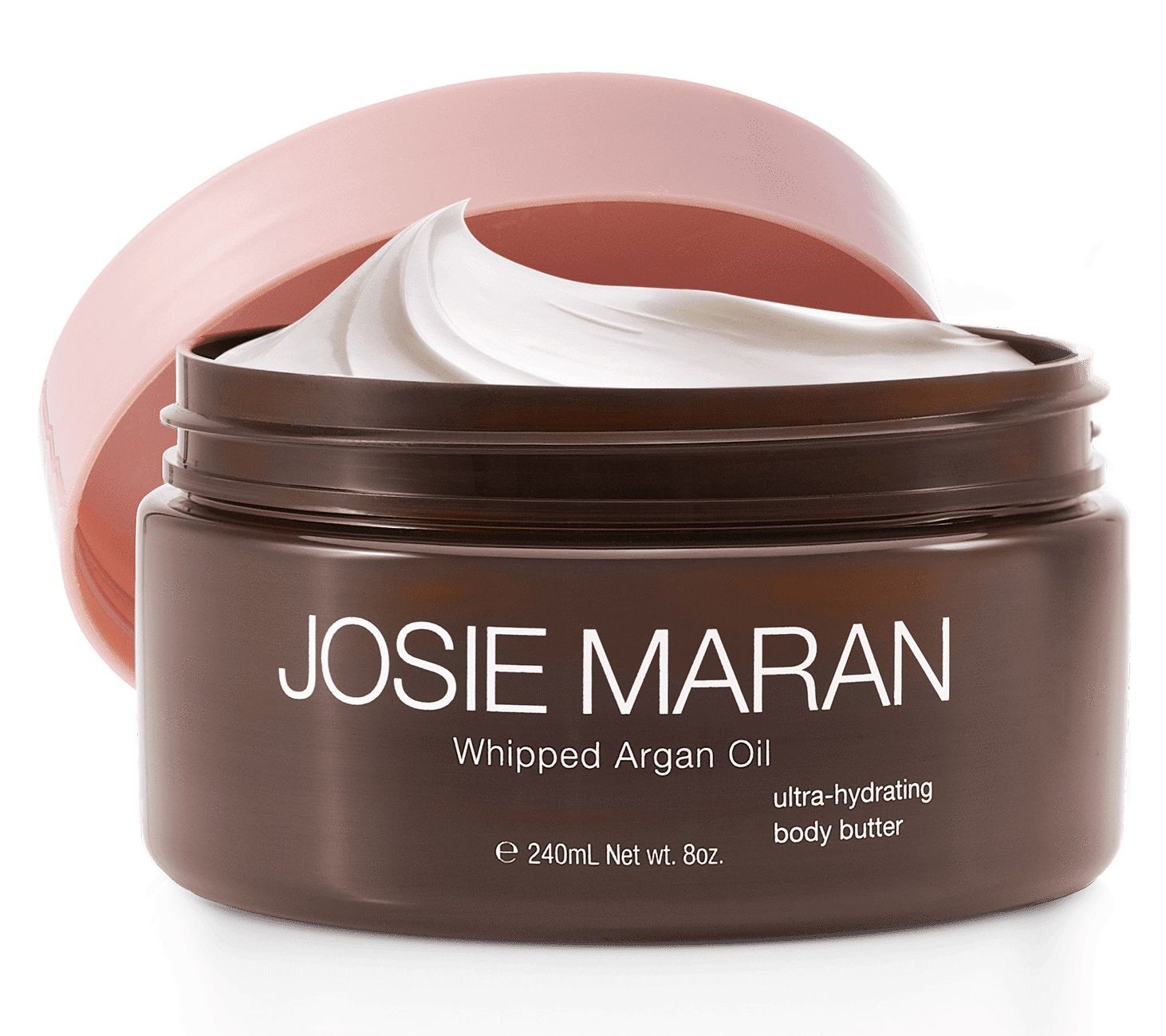 Illustration courtesy of QVC, where I would totally buy it, except they won't let me log on.
Winter is coming
The pie inventory chez Buxom has shrunk (unlike the Buxoms) and the heat is on. We're heading into the time of year where, if I don't take precautions, I'll start to itch. And if I don't take steps to correct the itching, my shins will develop red patches that won't clear up until spring.
I know, not a pretty picture. So I take steps. I slather on a good amount of rich lotion or cream every time I bathe. (It also helps to turn down the heat, but my focus today is on solutions that you can buy at Sephora.)
What to do?
I rummaged through my samples to see whether I had anything new and exciting in the way of body cream to try out. I was delighted to discover a .34 oz. packet of Josie Maran Whipped Body Butter (henceforth referred to as JMWBB, because God, what a mouthful.) JMWBB is a cult classic--I hear about it all the time on YouTube, MakeupAlley, Allure, and Sephora.
But is it any good? Josie Maran's facial cleansing oil is by far the worst I've ever used. Could the body butter possibly be as good as people claim?
The trial
One thing that's nice about product samples is that they can be viewed as a Serving Suggestion. I mean, I assume that .34 oz of JMWBB would cover all but the most morbidly obese of us with no leftovers and no parts of my buxom self left unmoisturized. Accordingly, I rubbed on the entire packet.
The texture of JMWBB is absolutely perfect, neither so thin as to seem ineffectual, nor so thick so as to be difficult to spread. It smoothed easily over my very-slightly-damp self, unlike, say, Nivea's original creme, which has a tendency to stick to one spot when I try to apply it while I'm even a bit damp.
The body butter left me comfortably moisturized but not greasy, and I stayed that way for the rest of the day. I also liked the scent, which lingers (although this could be a problem for the perfumistas out there.) But it seemed fine for use on days when I'm not wearing perfume,
Even though an 8 oz. jar (or, if the Serving Suggestion could be trusted, a 24 day supply) would cost me $35, I decided to pop for a full jar of the stuff. A lot of reviews say you only need to use a little bit, but I used the entire packet, and it soaked right in. When it comes to dry skin, I am a professional. I'm hard core. I tend to use a couple of heaping tablespoons of whatever it is I'm rubbing on myself. If you are similarly parched, you might want to take those "you only need a little bit" reviews with a massive grain of salt. Do I need to remind you that Winter is Coming?
The problem
So, I had justified the purchase, but this is where I ran into problems. I was damned if I could tell which scent I had used. It smelled sort of like peaches, but it turns out that there are about eight different fragrances available. Had I used Vanilla/apricot? Vanilla/peach? Sweet Citrus? WHAT?
It turns out my aging eyes were incapable of perceiving the teeny tiny letters at the top of the sample packet, viz:
I'm sure you can see why.
However, if you take the back of the packet into really bright light and peer at it (or if you take a picture of it and then blow it up to 200 percent) you can very faintly see that
See?
It's Vanilla/Apricot.
But guess what? It's sold out at Sephora.
It's even sold out on the Josie Maran website.
It is, however, in stock at my local real-life, brick-and-mortar Sephora.
OMG I might actually have to
GO TO A STORE
.
"Horrors!" she exclaimed, as she collapsed amongst the cushions.